In the small town of Neenah, the local high school has a long history of homecoming traditions. Over the years, NHS honored traditions that bring the community together annually such as watching or participating in the spirit-filled parade, Hall of Fame banquet, which celebrates returning alumni, and the encompassing football game.
This year, however, marks a new era of homecoming traditions.
Currently, NHS is transitioning to a new school building and campus, being relocated to an area with vast space. This transformation warrants the question: "What can we do here?"
In the past, according to Principal Brian Wunderlich, the school had a homecoming week bonfire, in collaboration with the woods department. This old gathering allowed students to join around a warm crackling fire, to sing the school song, and to rev up the school spirit. Unfortunately, this tradition has been lost in time, but it might not be the only tradition that has had a chance of revival.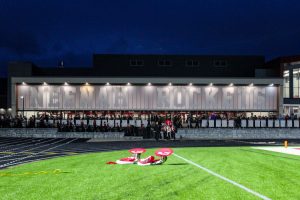 The infamous Powderpuff football game, where girls compete against each other, faced a similar period of being lost in time. Only to be successfully reinstated recently. Our new school provides a different location to have the opportunity to induce new things from the student body or bring back the old in a new light.  New traditions can be timeless to cultivate that real sense of belonging in the new school.
In the past two years, the freshman Olympics was introduced and has become a new annual tradition, giving unity to the freshman class in a new environment during homecoming. Principal Wunderlich in addition to this saw an opportunity to further unify our student classes within homecoming week. Advocating for inclusivity within our homecoming parade, which has traditionally been for clubs and sports. Wunderlich envisions a tradition where each class, from seniors to juniors and beyond, could decorate a float, allowing everyone regardless of their affiliations or lack thereof. An opportunity to participate in the homecoming festivities.
Despite this opportunity for changes in tradition, to create new and upgrade the old. Neenah still sticks to some core customs like dress-up days, a never-ending tradition for students to express their personalities. To the grand homecoming football game, the biggest event, which continues to serve as the peak of anticipation and community pride for our Rockets.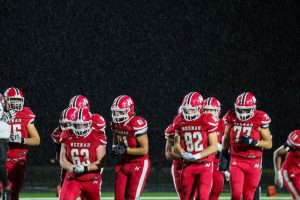 Furthermore, as students adapt to new surroundings, students are expecting to commit to creating new traditions, rejuvenating old ones in innovative ways, and continuing age-old customs that define homecoming week.
One goal that Wunderlich shared is to inspire the students to make Neenah a place they take pride in and a place where they are proud to be.
In the hopes of progress, students are invited to bring their own voices to the conversation. For example, any suggestions for new traditions or re-established experiences, students are encouraged to share thoughts by posting a comment on this story.
Together, students are empowered to use their voices and creativity to have even more extraordinary homecoming traditions in years to come.