#WhyI Write Raising Awareness of Literacy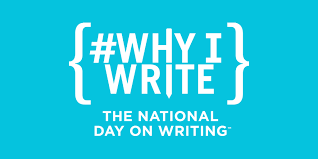 Hang on for a minute...we're trying to find some more stories you might like.
In a world of texts and tweets, IMs and DMs, it has become easy to keep in touch with entire online communities with the press of a button. This network of connections can also be used to raise awareness for causes and movements: enter #WhyIWrite.
The halls of NHS featured #WhyI Write posters.
National Day on Writing is an initiative of the National Council of Teachers of English, built on the premise that writing is crucial to literacy but is often overlooked. National Day on Writing was created to be an annual event celebrated across the United States on Oct. 20. On that day each year, writers are encouraged to share the reason behind their love of writing by using #WhyIWrite on Twitter, Instagram, Facebook, and other social media services.
"Writing does not need to be as formal as an essay," explains Melissa Binsfeld, the literacy coach and reading specialist at Neenah High School, on the topic of why she endorsed #WhyIWrite in her classroom and encouraged other teachers to endorse it in theirs. "#WhyIWrite […] was one avenue to promote literacy," Binsfeld adds.
Although not all teachers chose to partake in #WhyIWrite, those who did were asked by Binsfeld to "focus on the writing [their] students do every day and promote the event, showing students that writing happens in many forms."
National Day on Writing has come and gone for 2018, and the results are stunning: according to the National Council of Teachers of English, the hashtag was used on Twitter alone almost 50,000 times, and was trending the entire day. About 20,000 of those were original tweets, and the rest were retweets of those originals. It is estimated that #WhyIWrite reached about 124 million people- an astronomical amount and nearly a third of all Twitter users worldwide.
According to the National Council of Teachers of English, since 1911, the goal has been to standardize assessments for literacy, reading and writing; develop teaching practices relevant to culture; and work toward improvement in teaching English and language arts.
The National Council of Teachers of English has helped teachers form relevant, regulated curriculums across the country, using #WhyIWrite to spread awareness about their cause.
So get ready, get set, get writing!