Column: Solar Roadways Offer a Safer Option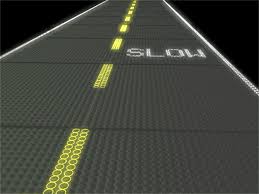 Hang on for a minute...we're trying to find some more stories you might like.
With the winter weather featuring the constant freezing cold temperatures, safety is a major concern. Both on the roads and in your cars, treacherous conditions exist for Wisconsin drivers. Inches of snow and layers of ice can quickly lead to wrecked vehicles and ruined plans, but that is part of Wisconsin.
What if there was a way we could minimize road conditions such as ice or snow? Could we make roads more visible at night time by lighting up the lines in the road? Solar roadways can give us the ability to do all this and even more.
The product behind Solar Roadways are hexagonal Solar panels with LEDs and reinforced with tempered glass. Underneath the glass there are a lot of tiny LED's that are capable of certain configurations like traffic lines, early warning symbols and are pressure sensitive so they light up when something is on the road. Not to mention the panels can be heated to melt any snow and making it impossible for ice to form on the roads. Basically the goal of these panels is to eventually replace highways, roads, parking lots, driveways and patios with Solar Panels. The best part about these road hexagons is that they are also Solar panels. Creating power that can run the roads itself. If enough roads have this technology they would even create extra power that the city can use to power other things. Solar Roadways wants to provide clean energy to the world that will provide safety and peace of mind. "We want to promote the future relationship between the people and the Earth," wrote Julie Bursaw owner of Solar Roadways.
This idea can create capital, jobs and essentially free clean energy for all of us to use. With all the benefits of concrete and asphalt, the Department of Transportation has given the company funding to make a prototype road and prove that the idea is worth while. Let us hope we can see more progress and make the Earth a safer cleaner place with Solar Roadways.