Review of 4 Your Eyez Only J. Cole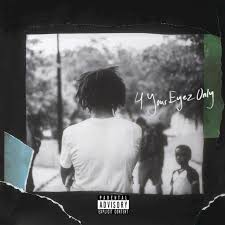 Hang on for a minute...we're trying to find some more stories you might like.
In March 2016 Swat members swarmed a house in the suburbs of North Carolina. Within seconds, the door to the house was bashed in and officers began to enter. According to the producer Elite, helicopters were flying overhead as more and more armed officers poured into the house, supposedly acting on a tip from a neighbor that the house was selling drugs. Instead of finding a vast drug operation, officers found a huge recording studio in the basement, the heart of a musical workshop that has influenced more people around the world than any drug could.
This house belonged to Jermaine "J" Cole. He uses this house as a "safe haven" to collect his thoughts and write his inspiring music. J. Cole wrote about this unfortunate experience in his latest album, 4 Your Eyez Only. The track title is "Neighbors" and shares his view of discrimination against African Americans. Some lyrics from J. Cole's song "Neighbors" include:
"That's why I moved away, I needed privacy
Surrounded by the trees and Ivy League
Students that's recruited highly
Thinkin' "You do you and I do me"
Crib has got a big 'ol back 'ol yard
My brothers stand outside and pass cigars."
In this earlier part of the song he explains how he thought racism was dead and he could live in a rich neighborhood that was primarily white, but throughout the track he gets darker and feels more secluded from society when his neighbors called the police on him. He takes the position as the victim and describes the challenges facing African Americans. Cole uses a great bassline in combination with a poetic flow, making this the catchiest track in the album.
4 Your Eyez Only was highly anticipated after Cole's last album 2014 Forest Hill Drive went double platinum with no features, the first time that has happened in 25 years. This album is based around the death of Cole's best friend James McMillan Jr. and relaying McMillan's life story to his daughter Nina. He ties in social issues and traumatic experiences from his life. People love this album. It was ranked number one on the overall album chart on the week of Dec. 31 and all 10 of its tracks are on the Billboard Hot 100 Chart according to billboard.com.
The second track "Immortal" features an upbeat tempo that starts fast and ends fast. It focuses on when Cole and McMillan were living on the street. Some lyrics from J. Cole's song "Immortal" include:
"Now I was barely seventeen with a pocket full of hope
Screamin', dollar and a dream with my closet lookin' broke
And my brother's lookin' clean, gettin' caught up with that dope."
Selling drugs on the street was a common thing for him to escape the horrible life of poverty. Living on the street, Cole and Mcmillan believed that he could not die and they were in fact "immortal." Cole writes that Mcmillan is a good person deep down and he believes Mcmillan is sorry that he sold drugs, ruining lives in the process.
Cole talks about his own life through "She's Mine Pt. 1". This track explains how women can positively change a man for the better. He claims that without his wife Melissa Heholt, he would not have had the ambition to make it out of the ghetto.  Some lyrics from J. Coles song "She's Mine Pt. 1" include:
"You read me like a book like I'm the Bible, you the Reverend
Yeah, I wanna tell the truth to you
I wanna talk about my days as a youth to you."
If you were listening to this track without consciously thinking about the lyrics, you would think this was a depressing track due to its slow tempo, monotone rapping, and piano background. But while listening to the lyrics you get a sense that through this tragic death Cole went through, he is still an optimist person. The sad yet happy track keeps your attention and makes you listen closely.
"She's Mine Pt. 2" has the same type of format as "She's Mine Pt.1", slow beats, monotone rapping and a soft piano background. The message shifts gears and talks about how the birth of a child can cause a person to turn their life around. Cole related this with his own daughter, but also relates this with McMillan and Nina. Cole believes if Mcmillan did not die, he would have turned his life around out of love for his new child. Some lyrics from J. Cole's song "She's Mine Pt. 2" include:
"Reminisce when you came out the womb
Tears of joy I think filled up the room
You are now the reason that I fight
I ain't never did nothing this right in my whole life
Got me thinking . . . "
Cole emphasizes the happiest moment in his life was having his baby. This track is over-rated because of the fact that it is too long and repeats itself too much. Every so often a baby crying will be incorporated into the beat and will either make you laugh or cringe. I always feel the need to change the track when it comes on my playlist.
In his beautiful almost 9 minute track "4 Your Eyez Only" he tells Nina her father's story because McMillan knew he was not going to be around much longer with the chaos going on in his gang. It is filled with metaphors explaining how much his father loved her and how she will do great things in life. The long track is complemented with four verses and an array of raps that will leave you speechless.
"With that said, the only thing I'm proud to say, I was a father
Write my story down, and if I pass
Go play it for my daughter when she ready"
This iconic album was not about pump-up rap tracks, it was about paying tribute to an old friend. The album's tone reflected that of McMillan's life, starting with an exciting childhood reflected in the upbeat tempo immortal and ending with his tragic death, reflected in the depressing "For Whom The Bell Tolls." Although Cole's album 2014 Forrest Hill Drive or Born Sinner both have better songs to crank up the volume and nod your head too, the albums do not show real world problems like 4 Your Eyez Only does. Instead of watching a movie, listen to 4 Your Eyez Only and let the lyrics tell you a story.
Overall
8/10
Favorite Track
"Neighbors"
Worst Track
"She's all mine Pt. 2"