Cast, Crew Share Feelings on Last Show in Pickard
A blackbox production of Bad Auditions by Bad Actors hit Pickard Stage this past Thursday, with repeat showings lasting into the weekend.  The play features a newly-hired stage manager (Emma Cartwright, senior) who is tasked with casting a production of Romeo and Juliet in a bid to save her financially struggling community theater.  To her dismay, all actors who auditioned displayed serious problems with their performances, a situation compounded by her inexperienced Assistant Director (Sylvia Dums, senior) who sabotages, delays, or otherwise interferes with each audition.
The play received positive reviews from audience members who congregated around and socialized with the cast after the premiere.  Skyler Van Buren, a sophomore, loudly proclaimed that he "just felt like all the actors were really energized and spirited."  Van Buren noted the actors' energy made him want to be an actor himself.  "It was a great show," he added.
Occurring as the Neenah High School Drama Club's last theatrical production to be premiered within Pickard Stage for the foreseeable future, reactions from cast and crew alike featured various types of emotions.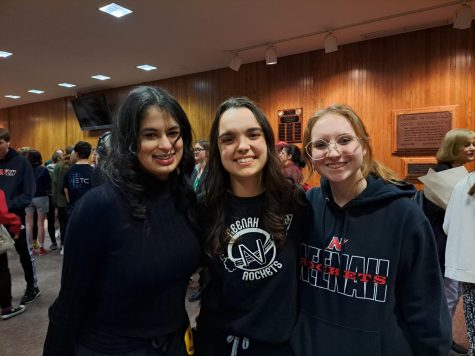 Crew members Katia Kutchek (sophomore), Sarah Brunel (junior), and Michaela Mayo (senior):
Q: How was today's show?
Kutchek: I think it went amazing, or at least from my point of view. With everything that I had to do for, like, hair and makeup, I think it turned out amazing. Everyone, from what I saw, did awesome. And I think it was a really good first show for an opening night.
Brunel: I thought it was amazing as well.  I thought the audience was good.  They laughed at points and just very had good interaction overall.
Mayo: Sarah took my words. The audience was amazing.  The energy of the audience was amazing. And I'm so excited for the last couple of shows that we got.
Q: What were some challenges, if any, that happened during production?
Kutchek: So I'm on the props crew, and I think the most amount of props we had was all the papers that we had to keep track of.  It was hard to remember who got what papers and make sure they had them all at the same time.  I think that was probably the hardest part.
Brunel: I think the hardest part for makeup and hair was the fact that both us as the crew and then the actors themselves, had a lot of options on what they could do.  We had a very wide array of basically, "go for it if you think it works."  So it was really hard to make sure it fit the requirements and didn't push our boundaries while still allowing the people to characterize their character how they wish.
Mayo: I'm on costumes, and I would say the hardest thing for costumes is probably just finding costumes for each character, like trying to find something that fits their character and actor or actress that plays that character.  We wanted to go with something that fits their character but also themselves.  So that was kind of challenging, but we did it.
Q: With this being the last show in Pickard, what are your thoughts on the future?  What are you looking forward to at the new high school?
Kutchek: I'm looking forward to the actual black box for the plays. It will be so nice not having to set up all the risers and chairs before the show and then taking them down after, just so we can have that type of seating and to add on to that.
Brunel: It'll be a lot nicer because we'll get to have so many more opportunities and events in our auditorium since we won't have this set up and it won't be in the way, and we can have more concerts, more just everything with that.
Mayo: I won't be here next year, but I'm excited. Come see the new productions at the new high school. I'm so excited to see what the new theater and broadcast have in stock.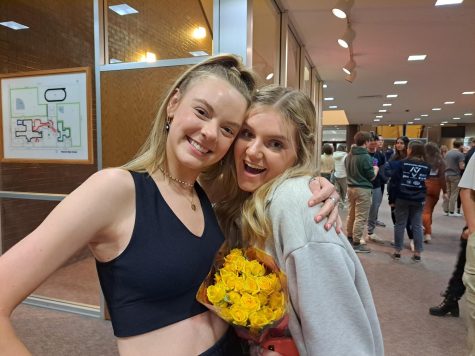 Cast members Matilda Hughes, senior, and Macy Schmidt, junior.
Q: How was tonight's show?
Hughes: It went really good. It was a great opening night. We had a lot of people in the audience, a lot of energy to feed off of, and it was great to be working with the laughter of the crowd.
Schmidt: Yeah. So this is our first time in front of an audience, an opening night, and it's really great to get that laughing back and some feedback on the parts that the audience likes and, you know, some things we can improve on. So it was a really good night.
Q: What do you think you could improve on?
Schmidt: Well, actually, I came out without shoes, so I would improve on that next show.
Hughes: I think we did a really good job for it to be our first opening night. It was a little tough in the beginning, just because there are so many of the cast, it's hard to get everyone at a rehearsal. But I think, honestly, we did really good, the best we could.
Q: What are your thoughts with this being last show in Pickard?
Schmidt: I really like that this gives an opportunity for a lot of people to have different shining moments. I think in a lot of shows, it's usually, like, one big role, and then a couple of people backing them. But I think for this, it really gives people an opportunity to shine. So this is a good pick, I think.
Hughes: Yeah, exactly what Macy said.  With our past show, Eurydice, it was a small cast, so this definitely allowed a lot of seniors and a lot of people to be in it and showcase their talents.
Q: What was special about the production aspect of this show?
Schmidt: That's a great question. I think this one, everyone gets, like, an equal amount of time on stage, relatively, so it's cool to see what people can do with that.
Hughes: Yeah, and it definitely involves, like it feeds off the energy of the audience, which is very different to other shows; we work with the laughter, and we work around it, and we really know how to feed the audience.
Cast members Raziel Dixon and Marcus Gallatin, sophomores.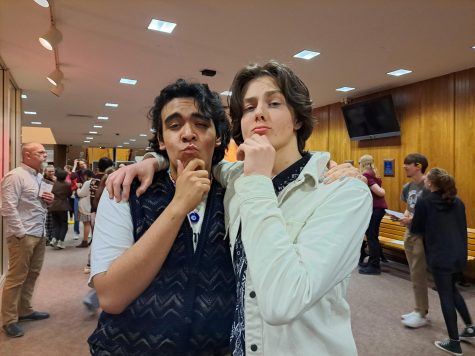 Q: How was the preparation of the show for you?
Dixon: All right, so preparing it. There was a lot of, like, lighter preparation than some of the other stuff that I've been in. It was definitely more difficult because I had to work more on the character I was playing, because it's more of specific role playing in this one.
Gallatin: Like Raziel said. Our two lead actresses, Sylvia and Emma, they were at rehearsals all the time, shout out to them, and then, like, Razielle and I, and almost everyone in the whole cast, had very mild preparation leading up to the show. We only had, like, maybe I think, three, four, five rehearsals.
Gallatin: Five. For, like, full dress rehearsals, I think. Like, all of ours was combined. We also started really late, in March.
Dixon: We also missed a week due to spring break. We didn't practice at all that week, but after that, that's when we started rehearsing a lot more heavily. That's when we started our initial full runs of the show and our dress rehearsals.
The NHS Drama Club's next shows will be moving to the new auditorium at 500 Rocket Way for the 2023-'24 year and beyond; the inaugural performance will be their fall play, Mamma Mia! and their one-act play, This Girl Laughs, This Girl Cries, This Girl does Nothing in the fall of this year.
Gallatin noted that Pickard auditorium will not be entirely abandoned.  "Even high schoolers will still be using this space a few other years.  In like 3 years, we could be back for the musical, and then over at the new high school for the next 2 years and so on," he said.
Dixon was more emotional in his assessment.  "It's definitely going to be sad to not be here. I hope the middle school will be able to make good use of Pickard," he added.